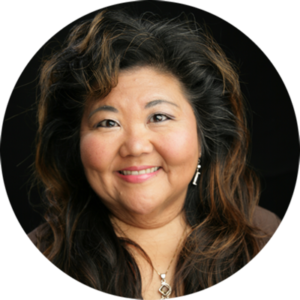 Aloha! Lorrie was born and raised in Hawaii. After college she moved to Santa Clara, CA to start her finance career. After nearly 20 years in corporate America, climbing the proverbial ladder to success, Lorrie realized she was not living her dream. As a single mother, she took a leap of faith and left her safe, corporate career and embarked on a journey of discovery and passion. She became a certified herbalist and aromatherapist. This brought her back to her time growing up in Hawaii learning about plants, mother earth and our bodies natural ability to heal.
Lorrie discovered by using knowledge, focus, and intuition she could create a joy filled life. She used these tools to attract a magical, loving relationship with her husband. Together they are successful investors and business owners. They were awarded the Enlightened Millionaire Hall of Fame award with Robert Allen and Mark Victor Hansen in their Enlighted Millionaire Institute (EMI). In addition to being a Robert Allen and Mark Victor Hansen EMI protégé. She coached for Harv Eker's Peak Potentials Success coaching for many years. She was interviewed by Arielle Ford in her 'Meet the Experts' show airing on ABC and NBC and worked with Louise Hay's Hayhouse as a workshop presenter. She also is a Huffington Post writer/blogger.
Lorrie brings healing, light, and joy perhaps more than anyone I know. Live a balanced life with work, relationships and future goals. She can help you by letting go of the past and moving into the future with Knowledge that you CAN create what you want in your life. This is the gift she is bringing the world.
Lorrie is a life, love and financial coach and teacher. She is passionate about helping others improve their lives using practical knowledge and energetic tools. She is also a reconnection energy healing practitioner. About a decade ago, through intuition and messages, she discovered her 'high priestess shaman' lineage which she accepted through ceremony in Japan and Hawaii. This lineage further increases her intuitive and energetic connection to help others achieve their best life.
In 2007, she was called back to the corporate world as a consultant during the economic crisis to utilize her expertise in the financial industry and real estate market. Currently, she is the VP of a credit union, continues coaching, teaching, speaking and sharing her gifts. Along with her practical knowledge she uses the extraordinary ability she inherited from her lineage to clearly see what each person needs to help them on their journey.
Lorrie's gift is bridging two worlds. Using her financial, real estate, business and life knowledge highlighted with her intuitive energy, she helps her clients discover their own power to expand their future. Lorrie provides real life solutions to integrate with everyday living to create unlimited success through empowerment, knowledge, focus and intuition.
She currently lives near Seattle, Washington with her husband, children and family pets. She continues to expand into the life of her dreams...